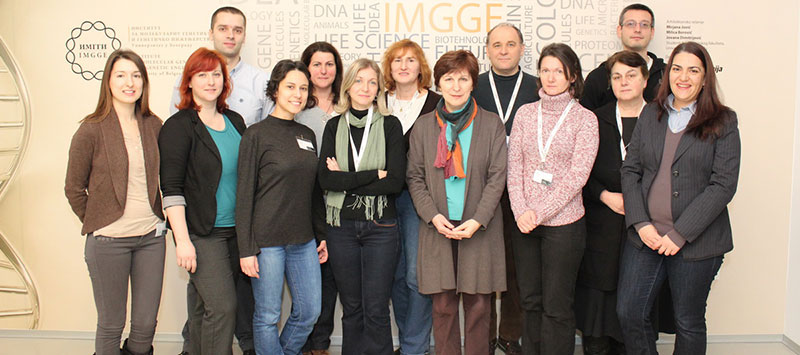 The Laboratory for Plant Molecular Biology has been established in 2002. Our research group is interested in diverse aspects of Plant Molecular Biology:
plant response mechanisms to various abiotic stresses (mineral stresses: from nutrient deficiency to the excess of essential and other mineral elements, environmental stresses: drought, salinity, temperature, etc) on transcriptional and posttranscriptional level
research in fields of microevolution (population genetics), phylogeography and macroevolution (phylogenetics) of plants important for agronomy and horticulture.
isolation and characterization of bioactive phenolic compounds from plants; testing for bioavailability and effects on human cell lines
study of fungal pathogenesis and homologous recombination using Ustilago maydis as a model system
At the Laboratory for Plant Molecular Biology, the PCR method for detection, identification and quantification of genetic modification in plant material and food/feed products has been developed and accredited according to SRPS ISO/IEC 17025.
Current project:
Selected publications:
Ilic-Tomic T, Sokovic M, Vojnovic S, Ciric A, Veljic M, Nikodinovic-Runic J, Novakovic M. Diarylheptanoids from Alnus viridis ssp. viridis and Alnus glutinosa: Modulation of Quorum Sensing Activity in Pseudomonas aeruginosa. Planta Med. 2017;83(1-02):117-125.
Warżajtis B, Glišić BĐ, Savić ND, Pavic A, Vojnovic S, Veselinović A, Nikodinovic-Runic J, Rychlewska U, Djuran MI. Mononuclear gold(III) complexes with L-histidine-containing dipeptides: tuning the structural and biological properties by variation of the N-terminal amino acid and counter anion. Dalton Trans. 2017;46(8):2594-2608.
Ajdacic V, Senerovic L, Vranic M, Pekmezovic M, Arsic-Arsenijevic V, Veselinovic A, Veselinovic J, Solaja B, Nikodinovic-Runic J, Opsenica I. Synthesis and evaluation of thiophene-based guanylhydrazones (iminoguanidines) efficient against panel of voriconazole-resistant fungal isolates. Bioorg Med Chem. 2016;24:1277-1291.
Božinović N, Šegan S, Vojnovic S, Pavic A, Šolaja BA, Nikodinovic-Runic J, Opsenica IM. Synthesis and anti-Candida Activity of Novel Benzothiepino[3,2-c]pyridine Derivatives. Chem Biol Drug Des. Chem Biol Drug Des. 2016;88(6):795-806.
Glisic B, Senerovic L, Comba P, Wadepohl H, Veselinovic A, Milivojevic D, Djuran M, Nikodinovic-Runic J. Silver(I) complexes with phthalazine and quinazoline as effective agents against pathogenic Pseudomonas aeruginosa strains. J Inorg Biochem 2016;155:115-28.
Jeremic S, Beskoski V, Djokic L, Vasiljevic B, Vrvic M, Avdalovic J, Gojgic Cvijovic G, Slavkovic Beskoski L, Nikodinovic-Runic J. Interactions of the metal tolerant heterotrophic microorganisms and iron oxidizing autotrophic bacteria from sulphidic mine environment during bioleaching experiments. J Environ Manage. 2016;172:151-161.
Radivojevic J, Skaro S, Senerovic L, Vasiljevic B, Guzik M, Kenny S, Maslak V, O'Connor K, Nikodinovic-Runic J. Polyhydroxyalkanoate-based 3-hydroxyoctanoic acid and its derivatives as a platform of bioactive compounds. Appl Microbiol Biotechnol. 2016;100:161-72.
Savic N, Milivojevic D, Glisic B, Ilic-Tomic T, Veselinovic J, Pavic A, Vasiljevic B, Nikodinovic-Runic J, Djuran M. A comparative antimicrobial and toxicological study of gold(III) and silver(I) complexes with aromatic nitrogen-containing heterocycles: synergistic activity and improved selectivity index of Au(III)/Ag(I) complexes mixture. RSC Adv. 2016;6:13193-13206.
Ilic-Tomic T, Gencic MS, Zivkovic MZ, Vasiljevic B, Djokic L, Nikodinovic-Runic J, Radulovic NS. Structural diversity and possible functional roles of free fatty acids of the novel soil isolate Streptomyces sp. NP10. Appl Microbiol Biotechnol 2015;99(11):4815-4833.
Pavić A, Ilić-Tomić T, Pačevski A, Nedeljković T, Vasiljević B, Morić I. Diversity and biodeteriorative potential of bacterial isolates from deteriorated modern combined-technique canvas painting. Int Biodeterior Biodegradation 2015;97:40-50.
Senerovic L, Zivkovic MD, Veselinovic A, Pavic A, Djuran MI, Rajkovic S, Nikodinovic-Runic J. Synthesis and Evaluation of Series of Diazine-Bridged Dinuclear Platinum(II) Complexes through in Vitro Toxicity and Molecular Modeling: Correlation between Structure and Activity of Pt(II) Complexes. J Med Chem 2015;58:1442-1451.
Veselinović JB, Kocić GM, Pavic A, Nikodinovic-Runic J, Senerovic L, Nikolić GM, Veselinović AM. Selected 4-phenyl hydroxycoumarins: in vitro cytotoxicity, teratogenic effect on zebrafish (Danio rerio) embryos and molecular docking study. Chem Biol Interact 2015;231:10-17.
Guzik MW, Narancic T, Ilic-Tomic T, Vojnovic S, Kenny ST, Casey WT, Duane GF, Casey E, Woods T, Babu RP, Nikodinovic-Runic J, O'Connor KE. Identification and characterization of an acyl-CoA dehydrogenase from Pseudomonas putida KT2440 that shows preference towards medium to long chain length fatty acids. Microbiology 2014;160:1760-1771.
Jovanovic P, Jeremic S, Djokic L, Savic V, Radivojevic J, Maslak V, Ivkovic B, Vasiljevic B, Nikodinovic-Runic J. Chemoselective biocatalytic reduction of conjugated nitroalkenes: new application for an Escherichia coli BL21(DE3) expression strain. Enzyme Microb Technol 2014;60:16-23.
Nikodinovic-Runic J, Mojic M, Kang YJ, Maksimovic-Ivanic D, Mijatovic S, Vasiljevic B, Stamenkovic VR, Senerovic L. Undecylprodigiosin conjugated monodisperse gold nanoparticles efficiently cause apoptosis in colon cancer cells in vitro. Journal of Materials Chemistry B 2014;2:3271-3281.
Radivojevic J, Minovska G, Senerovic L, O'Connor K, Jovanovic P, Savic V, Tokic-Vujosevic Z, Nikodinovic-Runic J, Maslak V. Synthesis of gamma-nitroaldehydes containing quaternary carbon in the alpha-position using a 4-oxalocrotonate tautomerase whole-cell biocatalyst. Rsc Advances 2014;4:60502-60510.
Stankovic N, Senerovic L, Ilic-Tomic T, Vasiljevic B, Nikodinovic-Runic J. Properties and applications of undecylprodigiosin and other bacterial prodigiosins. Appl Microbiol Biotechnol 2014;98:3841-3858.
Djokic L, Narancic T, Biocanin M, Saljnikov E, Casey E, Vasiljevic B, Nikodinovic-Runic J. Phenol removal from four different natural soil types by Bacillus sp PS11. Applied Soil Ecol. 2013;70:1-8.
Narancic T, Radivojevic J, Jovanovic P, Francuski D, Bigovic M, Maslak V, Savic V, Vasiljevic B, O'Connor KE, Nikodinovic-Runic J. Highly efficient Michael-type addition of acetaldehyde to beta-nitrostyrenes by whole resting cells of Escherichia coli expressing 4-oxalocrotonate tautomerase. Bioresour Technol 2013;142:462-468.
Narancic T, Djokic L, Kenny ST, O'Connor KE, Radulovic V, Nikodinovic-Runic J, Vasiljevic B. Metabolic versatility of Gram-positive microbial isolates from contaminated river sediments. J Hazard Mater 2012;215-216:243-251.
Contact:
Vojvode Stepe 444a
P.O BOX 23,
11010 Beograd, Srbija
Tel:+381 11 3976414,
Faks:+381 11 3975808
lab08@imgge.bg.ac.rs