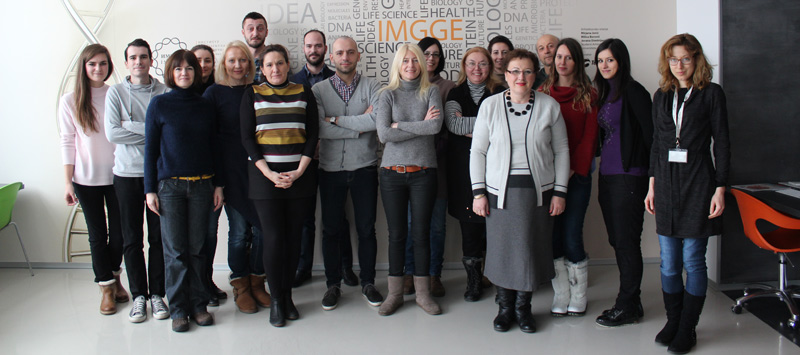 Laboratory of Molecular Microbiology (LMM) has a unique bacterial collection encompassing lactic acid bacteria (LAB) isolated from fermented dairy products - made in households according to traditional recipes as well as isolates of human origin.
From this collection strains with probiotic potential are selected and studied using in vitro molecular methods and in vivo experiments on different laboratory animals. In this way, we examine the molecular basis of the beneficial effect of selected probiotics on the specific human diseases including, inflammatory bowel disease and diabetes. The final goal is application of the living probiotics in the form of functional food and the discovery of bioactive compounds with health improvement effects. Moreover, due to necessity to use particular LAB in the production of fermented milk products with geographical origin, part of the research is devoted on studies of the production and mechanisms of action of proteinases and bacteriocins.
Due to constant research and services development, design and the construction of molecular tools like plasmids, cosmids, expression vectors, is one of the priorities for LMM.
LMM is also focused on molecular basis of antibiotic resistance of clinical isolates, including dissemination and evolution of tantibiotic resistance genes. Moreover, special importance is given to phenomenon of bacterial colonization of patients with rare diseases, such as cystic fibrosis.
Laboratory provides services in the field of molecular identification and genotyping of bacteria, construction of unique starter cultures for probiotic dairy drinks, yoghurts and semi-hard cheeses and tailored made investigations.
Current projects:
Genes and Molecular Mechanisms Promoting Probiotic Activity of Lactic Acid Bacteria from Western Balkan
ON 173019
Principal Investigator: Dr Milan Kojic, IMGGE

Molecular characterization of bacteria from genera Bacillus and Pseudomonas as potential agents for biological control
ON 173026
Principal Investigator: Dr Djordje Fira, Faculty of Biology, University of Belgrade

Development of new encapsulation and enzyme technology to produce biocatalysts and biologically active food components in order to increase its competitiveness, quality and safety
III 46010
Principal Investigator: Dr Branko Bugarski, Faculty of Technology and Metallurgy, University of Belgrade

Development of technological processes for production of innovative probiotic products for prevention and treatment of intestinal infections in animals
Project 2616 of the Innovation Fund
Principal Investigator: Dr Natasa Golic, IMGGE

Development of innovative probiotic fermented product based on natural isolates of lactic acid bacteria for the treatment of dogs and cats suffering from diabetes
Innovation project of the Ministry for Education, Science and Technological Development
Principal Investigator: Dr Maja Tolinacki, IMGGE

Survey for antimicrobials effective against carbapenem-resistant Gram-negative bacteria
CRP/SRB15-02
Principal Investigator: Dr Branko Jovcic, Faculty of Biology, University of Belgrade
Selected publications:
Mirkovic N, Polovic N, Vukotic G, Jovcic B, Miljkovic M, Radulovic Z, Diep DB, Kojic M. Lactococcus lactis LMG2081 Produces Two Bacteriocins, a Nonlantibiotic and a Novel Lantibiotic. Appl Environ Microbiol. 2016;82(8):2555-2562.
Novovic K, Vasiljevic Z, Kuzmanovic M, Lozo J, Begovic J, Kojic M, Jovcic B. Novel E. coli ST5123 Containing blaNDM-1 Carried by IncF Plasmid Isolated from a Pediatric Patient in Serbia. Microb Drug Resist. 2016 Apr 13. [Epub ahead of print]
Stanisavljević S, Lukić J, Momčilović M, Miljković M, Jevtić B, Kojić M, Golić N, Mostarica Stojković M, Miljković D. Gut-associated lymphoid tissue, gut microbes and susceptibility to experimental autoimmune encephalomyelitis. Benef Microbes. 2016;7(3):363-373.
Vasiljevic ZV, Novovic K, Kojic M, Minic P, Sovtic A Djukic S, Jovcic B. Burkholderia cepacia complex in Serbian patients with cystic fibrosis: prevalence and molecular epidemiology. Eur J Clin Microbiol Infect Dis. 2016 May 13. [Epub ahead of print]
Živković M, Miljković MS, Ruas-Madiedo P, Markelić MB, Veljović K, Tolinački M, Soković S, Korać A, Golić N. EPS-SJ Exopolisaccharide Produced by the Strain Lactobacillus paracasei subsp. paracasei BGSJ2-8 Is Involved in Adhesion to Epithelial Intestinal Cells and Decrease on E. coli Association to Caco-2 Cells. Front Microbiol. 2016;7:286.
Rajilić-Stojanović M, Jonkers DM, Salonen A, Hanevik K, Raes J, Jalanka J, de Vos WM, Manichanh C, Golic N, Enck P, Philippou E, Iraqi FA, Clarke G, Spiller RC, Penders J. Am J Gastroenterol. Intestinal microbiota and diet in IBS: causes, consequences, or epiphenomena? 2015;110(2):278-287.
Lozo J, Berić T, Terzić-Vidojević A, Stanković S, Fira D, Stanisavljević L. Microbiota associated with pollen, bee bread, larvae and adults of solitary bee Osmia cornuta (Hymenoptera: Megachilidae). Bull Entomol Res 2015;105:470-476.
Miljkovic M, Strahinic I, Tolinacki M, Zivkovic M, Kojic S, Golic N, Kojic M. AggLb Is the Largest Cell-Aggregation Factor from Lactobacillus paracasei Subsp. paracasei BGNJ1-64, Functions in Collagen Adhesion, and Pathogen Exclusion In Vitro. PL oS One 2015;10:e0126387.
Novovic K, Filipic B, Veljovic K, Begovic J, Mirkovic N, Jovcic B. Environmental waters and bla in Belgrade, Serbia: Endemicity questioned. Sci Total Environ 2015;511c:393-398.
Novovic K, Mihajlovic S, Vasiljevic Z, Filipic B, Begovic J, Jovcic B. Carbapenem-resistant Acinetobacter baumannii from Serbia: revision of CarO classification. PLoS One 2015;10:e0122793.
Terzic-Vidojevic A, Tonkovic K, Pavunc AL, Beganovic J, Strahinic I, Kojic M, Veljovic K, Golic N, Kos B, Cadez N, Gregurek L, Suskovic J, Raspor P, Topisirovic L. Evaluation of autochthonous lactic acid bacteria as starter cultures for production of white pickled and fresh soft cheeses. Lwt-Food Science and Technology 2015;63:298-306.
Vukotic G, Mirkovic N, Jovcic B, Miljkovic M, Strahinic I, Fira D, Radulovic Z, Kojic M. Proteinase PrtP impairs lactococcin LcnB activity in Lactococcus lactis BGMN1-501: new insights into bacteriocin regulation. Front Microbiol 2015;6:92.
Zivkovic M, Hidalgo-Cantabrana C, Kojic M, Gueimonde M, Golic N, Ruas-Madiedo P. Capability of exopolysaccharide-producing Lactobacillus paraplantarum BGCG11 and its non-producing isogenic strain NB1, to counteract the effect of enteropathogens upon the epithelial cell line HT29-MTX. Food Research International. 2015;74.199–207.
Filipic B, Nikolic K, Filipic S, Jovcic B, Agbaba D, Stankovic JA, Kojic M, Golic N. Identifying the CmbT substrates specificity by using a quantitative structure-activity relationship (QSAR) study. Journal of the Taiwan Institute of Chemical Engineers 2014;45:764-771.
Lukic J, Strahinic I, Milenkovic M, Nikolic M, Tolinacki M, Kojic M, Begovic J. Aggregation factor as an inhibitor of bacterial binding to gut mucosa. Microb Ecol 2014;68:633-644.
Ovchinnikov KV, Kristiansen PE, Uzelac G, Topisirovic L, Kojic M, Nissen-Meyer J, Nes IF, Diep DB. Defining the structure and receptor binding domain of the leaderless bacteriocin LsbB. J Biol Chem 2014;289:23838-23845.
Terzic-Vidojevic A, Mihajlovic S, Uzelac G, Veljovic K, Tolinacki M, Nikolic M, Topisirovic L, Kojic M. Characterization of lactic acid bacteria isolated from artisanal Travnik young cheeses, sweet creams and sweet kajmaks over four seasons. Food Microbiol 2014;39:27-38.
Veljovic K, Terzic-Vidojevic A, Tolinacki M, Mihajlovic S, Vukotic G, Golic N, Kojic M. Molecular characterization of natural dairy isolates of Enterococcus faecalis and evaluation of their antimicrobial potential. In: Enterococcus faecalis: Molecular Characteristics, Role in Nosocomial Infections and Antibacterial Effects: Nova Publisher, 2014:123-126.
Zivkovic M, Miljkovic M, Ruas-Madiedo P, Strahinic I, Tolinacki M, Golic N, Kojic M. Exopolysaccharide production and ropy phenotype are determined by two gene clusters in putative probiotic strain Lactobacillus paraplantarum BGCG11. Appl Environ Microbiol 2014;81(4):1387-1396.
Nikolic M, Lopez P, Strahinic I, Suarez A, Kojic M, Fernandez-Garcia M, Topisirovic L, Golic N, Ruas-Madiedo P. Characterisation of the exopolysaccharide (EPS)-producing Lactobacillus paraplantarum BGCG11 and its non-EPS producing derivative strains as potential probiotics. International Journal of Food Microbiology 2012;158:155-162.
Contact:
Vojvode Stepe 444a
P.O BOX 23,
11010 Belgade, Serbia
Tel:+381 11 3975960,
Faks:+381 11 3975808
lab6@imgge.bg.ac.rs